Whether you like it or not, remote work is here to stay. Approximately 26 percent of U.S. employees work remotely full-time, while 16 percent of American businesses are fully remote¹. Chances are you have been forced to work from home at some point during the past two-plus years due to current events. If you live in northwestern New Jersey like me, you may also be required to do so when inclement weather makes commuting impossible. Not surprisingly, the recent proliferation of remote work has benefited Zoom, the once-unknown communication and collaboration platform made ubiquitous during the COVID pandemic's early days.
Zoom has approximately 300 million daily meeting participants and 467,100 paying business customers worldwide, making it a crucial tool for your business's communications². However, there are some best practices you must follow while using it. Chances are you have been in a meeting only for others – such as children or pets, if you have them – to distract you and your fellow participants. You therefore need a solution that reduces distractions so you can better focus on the discussion at hand.
Fortunately, Zoom's background blur and custom background options are here to help. In this article, we will outline how to apply blurred backgrounds in Zoom, along with best practices for tuning out distractions so you and your colleagues can enjoy predictably awesome video meetings every time.
As its name suggests, Zoom's background blur feature simply blurs the background in your video, obscuring the people or objects behind you³. For example, you can utilize this feature to hide household clutter such as your wallet, keys, or unwashed laundry³. You can also use background blur during meetings on the go, whether you are at your favorite neighborhood café, on a train or bus, or in an airport lounge like the one pictured below³. Whether you choose to blur your background before or during a meeting, this process requires only a few simple steps³. To enable background blur before a meeting, start by signing into Zoom on your computer³. Next, select your profile picture and then click "Settings" ³. Then, select "Backgrounds & Filters" ³. Finally, click "Blur my background" and once again, your surroundings are hidden³. Now that you know how background blur works, we will highlight best practices for Zoom background selection.
A room with tables and chairs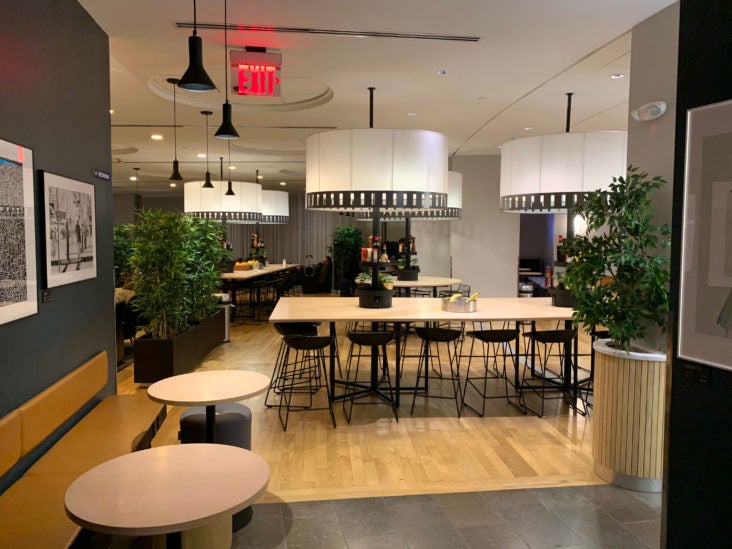 (Image courtesy of https://upgradedpoints.com/travel/airports/newark-liberty-ewr-airport-lounges/)
The most important practice for selecting Zoom backgrounds is to keep them professional⁴. Choosing a professional background for your calls shows that you take each one seriously⁴. Not only does your background set the tone for your video meetings, but it also creates a favorable impression for you and your business⁴. You can use premade images, select from Zoom's vast library of virtual backgrounds, or create a custom one⁴. However, keep in mind that you must match the appropriate background with the correct situation⁴. For instance, if you are meeting to discuss your company's budget or your upcoming marketing plan, chances are you would not use a picture of your favorite vacation destination in the background⁴. Additionally, if you opt to create your own custom backgrounds, consider adding a branded touch using your company's logo, fonts, and color palette⁵. In short, a professional background shows your clients and colleagues that you take your business's Zoom meetings seriously.
You should also avoid selecting backgrounds with busy features and patterns. These backgrounds can be distracting for both you and the other participants in your meetings. It can also detract from the text on your screen by making it more difficult to read⁴. This demonstrates that you must keep your Zoom backgrounds as simple and to the point as possible.
While you should clearly avoid cluttered backgrounds, you should not use plain, flat, single-colored backgrounds either, as they will make your meeting room appear smaller than it is⁴. Instead, select a background with added depth that better hides clutter and makes you appear more polished and professional⁴. Consider an art museum gallery, cityscape, or nature scene like the one pictured below⁴. This shows that choosing the proper background is pivotal for creating predictably awesome Zoom experiences for everyone in your organization.
(Image courtesy of https://www.techrepublic.com/pictures/photos-the-27-best-zoom-backgrounds-for-explorers-and-nature-lovers/)
Of course, when conducting a Zoom meeting with colleagues, clients, or both, you must not overlook the lighting in your chosen meeting room⁴. If you have a desk lamp or other light source behind you, it creates a halo effect which is not only distracting, but unflattering and unprofessional as well⁴. Therefore, you should make sure the light source is in front of you or to the side⁴. If you are utilizing a window as your primary light source, position yourself so that the light radiates from the side or behind you⁴. If you are using artificial lights like the desk lamp we mentioned, position them so they shine on you from either the front or the side⁴. In summary, proper lighting is essential for predictably awesome Zoom meetings.
While selecting professional, uncluttered backgrounds is crucial, along with ensuring the proper lighting, you must also make sure not to sit too close to the camera⁴. If you do, your real-life background will appear at the edges of your Zoom window, distracting your fellow meeting participants and making it difficult for them to see your face during screen sharing⁴. Fortunately, you can rectify this by always sitting at least six feet away from the camera, ensuring that your background is visible and that everyone can clearly see your face while you share your screen⁴. Any way you slice it, following these best practices is key for conducting predictably awesome Zoom meetings every time.
Navitend can help you. Call 973.448.0070 or setup an appointment today.
Sources:
¹Zippia. "25 Trending Remote Work Statistics [2022]: Facts, Trends, and Projections" by Jack Flynn. Retrieved from https://www.zippia.com/advice/remote-work-statistics/.
²Zippia. "31 Trending Zoom Meeting Statistics [2022]: How Many People Use Zoom?" by Sky Ariella. Retrieved from https://www.zippia.com/advice/zoom-meeting-statistics/#:~:text=How%20Many%20People%20Use%20Zoom%3F%201%20300%20million,Asia-Pacific%20%28APAC%29%20during%20Q3%20of%202021%20More%20items.
³Zoom Video Communications, Inc. "Using blurred background." Retrieved from https://support.zoom.us/hc/en-us/articles/360061468611-Using-blurred-background-#:~:text=%20Windows%20%7C%20macOS%20%201%20Sign%20in,blurred%20behind%20you%2C%20obscuring%20your%20surroundings.%20See%20More.
⁴CLIMB. "10 Zoom Background Best Practices" by Isobel Fallin. Retrieved from https://climbtheladder.com/10-zoom-background-best-practices/.
⁵Canva. "How to use Zoom virtual backgrounds" by Melanie Dimmitt. Retrieved from https://www.canva.com/learn/zoom-virtual-background/.
Contact us at 973.448.0070