If you are like me, chances are you have often filled out forms on a website, be it to apply for a job or speak with a company representative. Contact forms provide a crucial link between your business and prospective customers, but unfortunately, only 3 to 5 percent of all users fully complete them¹. Keep in mind, too, that not all contact forms are created equal. Many are designed with only a title and/or username field, and some without any text at all, making it difficult for users to understand and complete them². Now, you may ask, "How can I create engaging and predictably awesome contact forms for my business website?"
Fortunately, there are some best practices you can follow to craft the best contact form for your company's website. In this article, we will outline how to turn ordinary forms on your "Contact Us" webpage into predictably awesome experiences for both you and your prospects, every time.
When creating a contact form for your business website, you must provide information about why site visitors should contact you². For example, explain whether the contact form's purpose is to complete a job application, request assistance for technical issues, or chat with a company representative². Always include a heading and sub-heading on your forms indicating each one's basic premise². In short, your contact forms are meaningless if you do not outline a reason for website visitors to contact you.
Another best practice is to use smart forms, which make ordinary user experiences extraordinary and more importantly, boost your completion rates¹. Unlike their conventional counterparts, smart forms guide users to a specific answer based on their replies¹. Since smart forms let you tailor content directly to each user, you will benefit from higher conversion rates and higher-quality responses¹. For example, the Tripetto form builder plugin available for WordPress lets you utilize piping or branch logic so users can easily progress through your forms in a relevant manner¹.
While conditional logic functionalities help users progress through your contact forms quickly and relevantly, they also help you show and hide form fields based on the status of a user's response to a question, plus other similar criteria¹. This allows you to create forms that only show respondents the questions and sections most relevant to them¹. You can also use conditional logic to personalize forms. For example, you can include the respondent's name throughout the form, along with distinct questions based on their given title, gender, and more¹. This demonstrates that conditional logic is crucial for making your forms as user-friendly as possible.
Still another best practice for creating predictably awesome contact forms is to add options for alternate contact methods within your form³. For instance, in addition to providing a direct messaging functionality for users, you can include your company's primary email and phone number in the form as well³. This helps visitors completing your form decide which contact method works best for them³. Additionally, if your users prefer to connect with you via social media platforms like Facebook, Twitter, and Instagram, then include social media buttons on your contact form to link them to your business's social profiles³. In summary, the more contact options you give, the more likely visitors will contact you.
Of course, the language you use in a form is just as important as integrating alternate contact options and conditional logic functionalities¹. While most web content, including this blog article, benefits from using second-person language – with "you" as the primary pronoun therein – first-person language is advantageous for contact forms on your website¹. According to a recent A/B testing case study, the client's form completion rate increased 90 percent after switching from second- to first-person language¹. First-person language is especially helpful if your goal is to generate conversions or other positive actions for your business¹. For example, if you wish to sign users up for email updates, for example, "Sign me up for email updates" could resonate more with them than simply "Sign up for email updates" ¹. This demonstrates that wording is everything when it comes to generating conversions and profits for your business.
Yet another best practice for creating engaging contact forms is to include your business's address and location on a map within your form, as shown below³. Even if you do not have a physical presence such as an office or retail store, users still benefit from much-needed peace of mind when they know exactly where you are located³. If you have multiple locations, such as Byram, NJ; Binghamton, NY; Bethlehem, PA; and Bridgeport, CT, for example, including them all makes your form more practical than it would be without such information³.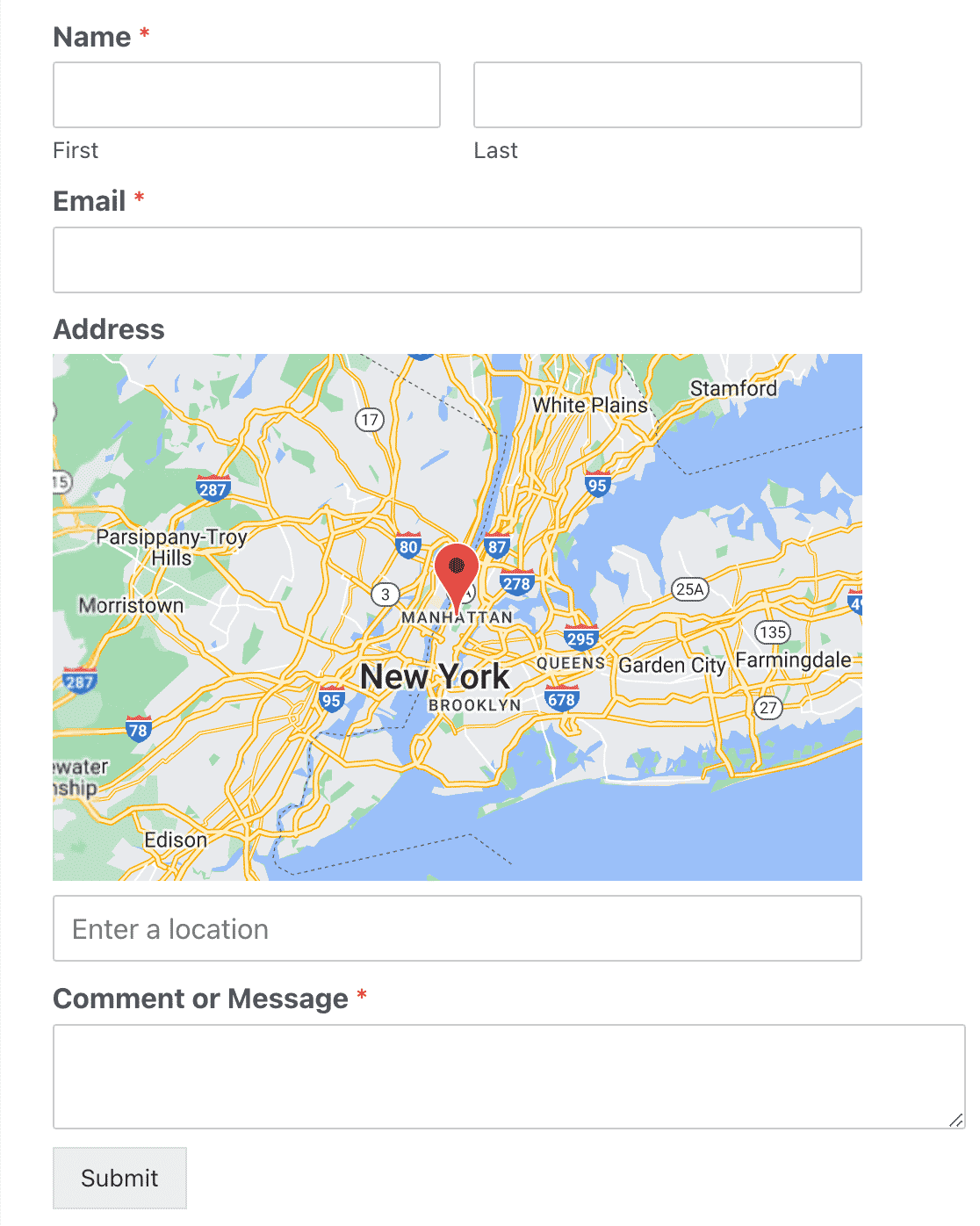 (Image courtesy of https://wpforms.com/how-to-display-a-map-with-your-wordpress-contact-form/)
Finally, you must test your contact form and make sure that it works properly. While this may seem a bit too obvious, if you do not test your form, you will be prone to bugs and errors¹. Thankfully, testing your form is simple. Start by previewing your form². Next, place yourself in the visitor's shoes and fill it out to find any flaws². Finally, once you have found these flaws and corrected them, make your form available for users to fill out on your website¹. Any way you slice it, following the best practices we outlined can help you create predictably awesome contact forms for every website visitor.
Navitend can help you. Call 973.448.0070 or setup an appointment today.
Sources:
¹Tripetto. "Best Practices for Contact Forms – 15 Tips to Apply for Success in 2022" by Jurgen van den Brink. Retrieved from https://tripetto.com/blog/contact-form-best-practices/#:~:text=15%20Contact%20Form%20Best%20Practices%20You%E2%80%99ll%20Want%20to,CTA%20Clicks%20as%20Custom%20Events%20...%20More%20items.
²JotForm. "10 Best Practices for Contact Forms." Retrieved from https://www.jotform.com/blog/best-practices-for-contact-forms/.
³WPBeginner.com. "12 Best Practices for Contact Form Page Design (with Examples)". Retrieved from https://www.wpbeginner.com/showcase/best-practices-of-contact-form-page-designs-in-wordpress/.
Contact us at 973.448.0070