The change of seasons is closer than you think. As summer turns to fall, the autumn season brings three months of falling temperatures and falling leaves. However, even the slightest change of temperature can be detrimental to your company's computers. Heat, cold, and varying levels of humidity can damage parts and sometimes fail entire systems. The consequences can be devastating, as even the shortest downtime can cost you thousands of dollars in lost productivity or force you to close forever¹. You therefore need a solid work environment for your business computers.
Fortunately, there are guidelines and best practices you can follow to ensure your computers are always running like clockwork, no matter the season. In this article, we will explore how to create a predictably awesome work environment for all your business devices.
First, you must make sure your workspaces are not too hot. Even though industrial computers are built to withstand temperatures up to 150°F (70°C), running your devices in such extreme heat will eventually damage them². If your office or data center's temperature is too high, it will increase the current running through your computer's most sensitive parts². This increased electrical load will overburden your device, frying components until they no longer function correctly². Excessive heat is especially problematic if you use a laptop or tablet, as it can damage batteries, lower the effectiveness, and extend the required charging time². In short, your business computers are not designed to tolerate triple-digit temperatures.
While preventing your computers from overheating is crucial, you must also protect them from extreme cold². Though lower temperatures alleviate overheating concerns, biting cold brings its own unique set of dangers². For example, if your computer uses liquid crystal displays (LCDs), the liquid inside can freeze and shatter your monitor(s)². Hard drives utilizing fluid dynamic bearings are also at risk, as cold temperatures thicken the fluid, causing hard disk platters to spin more slowly². This slows your computer's data processing speeds, and thus your productivity, dramatically². Although cold-related problems are less common than overheating, they can be equally detrimental to your devices and your business².
To prevent extreme heat or cold from wreaking havoc on your business computers, you must maintain steady office, IT (Information Technology) room, and data center temperatures. According to the American Society of Heating, Refrigerating, and Air Conditioning Engineers (ASHRAE), you should keep your workspaces' operating temperature between 64° and 81°F (18° and 27°C) ¹. However, if your office, IT room, or data center, like the one pictured below, has low levels of both silver and copper corrosion, ASHRAE recommends that you keep these spaces between 64° and 69.8°F (18° and 21°C) ¹. By following these simple guidelines, you can ensure that your computers run like clockwork year-round.
A picture containing building, computer, platform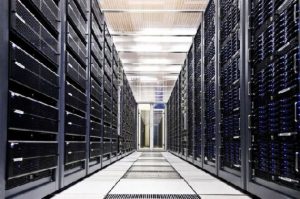 (Image courtesy of https://avtech.com/articles/4957/updated-look-recommended-data-center-temperature-humidity/)
Maintaining consistent operating temperatures is essential, but the same applies to your workspace's humidity level as well. If your computers operate in too humid an environment, they will become susceptible to condensation and corrosion³. As water condenses inside your computer, it causes metallic components to corrode, just as metal rusts when left outdoors on a rainy day³. Condensation on your computer's surfaces can short-circuit and therefore ruin the device, while corrosion reduces conductivity and can also lead to short-circuiting or in some cases, complete failure³.
Although humidity can be detrimental to your business computers, a lack thereof can also be problematic. When the humidity level in your office, IT room, or data center declines, static electricity begins increasing. If the humidity in your workspaces is below 35 percent, this static can shock your computers and ruin them entirely, even if they are not turned on³. Therefore, you must regularly test your devices and adjust the room's humidity as you see fit³.
Fortunately, ASHRAE has guidelines for maintaining ideal humidity levels. While relative humidity levels between 20 and 80 percent are acceptable, the exact percentage varies from one business to the next¹. If both silver and copper corrosion are common in your workplace, ASHRAE recommends that you limit the upper moisture level to 60 percent, and preferably 50 percent or lower¹. Meanwhile, Atlanta-based Anytime HVAC suggests that you keep the humidity in your computer rooms between 45 and 50 percent³. Once you have taken these helpful hints to heart, you can create a predictably awesome work environment and keep your business's computers humming.
Navitend can help you. Call 973.448.0070 or setup an appointment today.
Sources:
¹AVTECH. "ASHRAE Recommended Data Center Temperature & Humidity." Retrieved from https://avtech.com/articles/23418/ashrae-recommended-data-center-temperature-humidity/.
²Cybernet Manufacturing. "How Do Industrial Computers Survive Extreme Heat, Cold, and Humidity?" Retrieved from https://www.cybernetman.com/blog/how-do-industrial-computers-survive-extreme-heat-cold-and-humidity/.
³Anytime HVAC. "4 Unexpected Effects of Heat and Humidity on Your Computer." Retrieved from https://anytimehvac.com/4-unexpected-effects-heat-humidity-computer/.
Contact us at 973.448.0070